After announcing his departure from CNET & The 404 only two days prior, 996 says a special goodbye to Wilson Tang .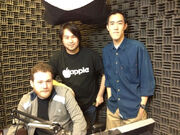 Show summary: It feels pretty weird to say it, but we've come to Wilson's last episode as a co-host of The 404 Podcast. It's been an awesome journey with this guy, but we'll send him off with a proper farewell from listeners that have been with us from the beginning.
"Uncle" Henry Tapchus joins us as the chat room liaison to help us screen voicemails and get through Adele's "Someone Like You" with our dignity intact.
Ad blocker interference detected!
Wikia is a free-to-use site that makes money from advertising. We have a modified experience for viewers using ad blockers

Wikia is not accessible if you've made further modifications. Remove the custom ad blocker rule(s) and the page will load as expected.